Arriving home to Badefols-d'Ans in late January after our first holiday was met with a thump! Guest arrivals and jobs were backed up and we couldn't find enough hours in our day. 'Quiet life' we thought as our brains were lost in the bars and restaurants of Edinburgh and on the beaches of Cornwall.

Slowly boxes began to get ticked off and after a busy month there was light at the end of the tunnel. We can slowly retract back to our 'quiet life' for a period of time!
Which takes us nicely back to our to do list, we'd better get on and dig the vegetable patch...mais peut-être après un petit verre de vin au soleil.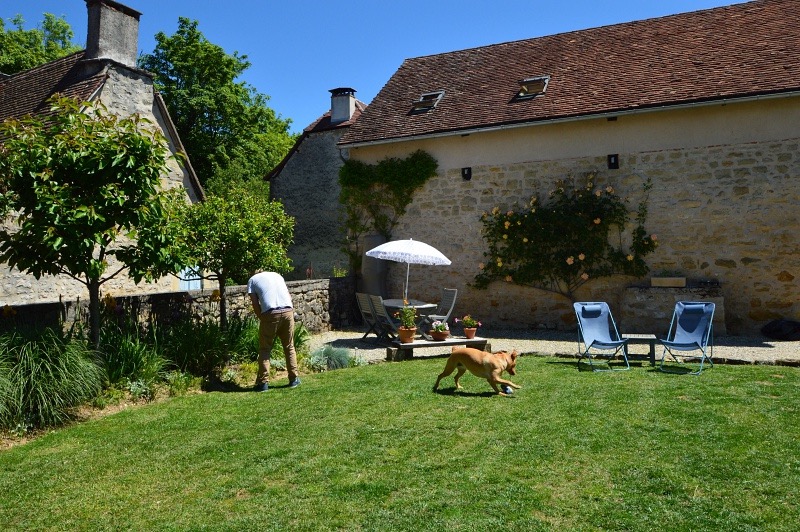 Last February we had a fortnight of glorious sunshine, we remember this as we were painting the shutters in our t-shirts! This week the same lovely warm weather has returned, the daffodils are out, this morning we found our peony sprouting (which we thought we'd killed), the garden is in bud, the sky is blue and life feels light.
School holidays have begun in zone A and the Parisians are in town; they always bring a fun vibe, chatting, children playing and a there's a sense of "joie de vie". Just like our Boo in the picture above taken in May last year.
We're looking forward to the main summer season intently, This year's a big one for Voila Villas Dordogne. Bookings are starting to come in, mainly for our family sized holiday homes with private pools, sleeping 6 plus. Our smaller gites are also getting busy for couples and smaller families. A big draw for bookings is that some of our properties are pet friendly, including both cats and dogs. Our own Joli Canard is as popular as ever, thanks to Sawdays and our own hard work!
Regardless of when, the bookings will come in, and its all about the planning. Cleaning, laundry, guest liaison, office time, not to mention the gardening and pool maintenance won't do itself, so organisation is key! This is when we feel our minds unwillingly being taken back to previous jobs working in busy property management roles in the city, as much as it haunts us, it does give us faith that we've got this!
We can put those busy thoughts on hold as there are a few months to enjoy before the madness begins. March, April and May are wonderful fresh months in Dordogne. Hot sunshine isn't guaranteed, but its warm with lots of variation in weather including our favourite low lying cloud. Which looks beautiful from our living room window as we look over the valley to Chatres. During these months we have a good schedule of work lined up for our properties, plus our own to do list is waiting patiently! When time allows we'll crack on with that, we must dig the vegetable patch, re-arrange the garage and shed to make the summer months easier and we have family visits too, so its going to be an exciting, busy few months.
Later in the year we hope to take some time out, to travel, stay as a guest rather than a host! Explore new places, and eat new foods. Hopefully we will find somewhere as nice as our own holiday rentals, that won't be easy!
Despite the pressure we face this year business wise, compared to this time last year we're streets ahead, we're confident in our surroundings, our French is a little better, we do everything at a slower pace, we've made some good friends and without knowing it we've built nice little life here. Our days and weeks are varied, there's no routine, but, if we want it we're almost there! Our freedom has grown immensely, we're having a lot of fun, and we're becoming resourceful in every sense. We no longer think 'what if' because we jumped right on our 'what if' 14 months ago.
Sadly all the good hasn't come without worry and stress. Mainly being, we now have our own business, which we are solely responsible for (!) and at times that's terrifying. We must navigate our way around the French tax system, health system and all the other weird and wonderful things that come with setting up life, things that in the past we took for granted. These things can be both difficult and frustrating on a daily basis. We have flitting moments of missing our monthly salaries when the bills flood in, but it's all short lived, and doesn't everyone strive for more..? Which takes us nicely back to our to do list, we'd better get on and dig the vegetable patch...mais peut-être après un petit verre de vin au soleil.
Plans for the coming year are simple. Firstly, we look forward to welcoming lots of happy guests to all of our eleven holiday rentals.
We will continue to encourage guests to visit Dordogne throughout the whole year. We often wonder why more don't explore the cultural differences at Easter, or October when harvest time is at its richest? Make a Christmas how you would like it to be, without the pressures. With properties on our website open for bookings all year round we're making it easy! Plus we can offer some excellent rates off-peak too!
Another avenue we'd like to explore which is a more challenging goal is to host retreats; painting, walking, cooking, yoga... we'd welcome any interest in these.
On a personal level our main aim, and something that will always be high up on our agenda is to keep learning the language, its essential for our long term happiness and is also one of the main reasons we made the move. We can't wait until we can have a proper conversation with all the lovely people in our village (but they'll have to put up with our comical mistakes for a little longer..)
We'll keep exploring our region Dordogne, and neighbouring regions Correze and Limousin and even further afield.. Provence is definitely on our list if we have time (we really should make time). We'll continue to try new restaurants and markets, enjoy sampling new wines and new boulangeries in the hunt for our favourite pastry, ready to share our finds with our friends and family who we hope will visit!
Despite all of our well laid plans and goals, we suspect most of our time will be spent in our peaceful garden, relaxing, and enjoying the good life we signed up for!
Hope to see you here sometime soon, and thanks for reading!
Bonne Journée
Joni et Ross